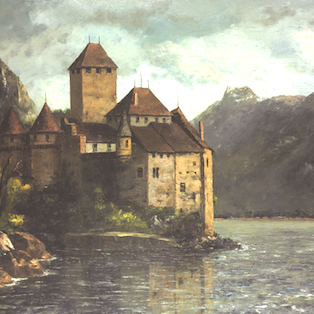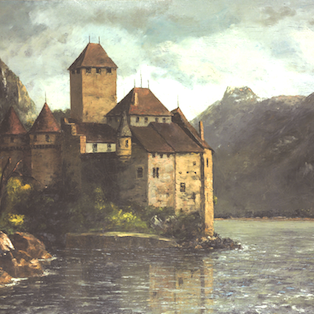 In June of 2019, the book Le Poème et le territoire invites you to discover the poetic world heritage of Western Switzerland through literary walks. From the Valais to Geneva, from Lausanne to the Jura, via Fribourg, Neuchâtel or the Riviera, some twenty itineraries follow in the footsteps of poets past and present, revealing a novel literary geography of the region.
Image : G. Courbet
Western Switzerland is a little-known poetic landscape. During their European peregrinations, Hugo, Lamartine, Byron, Wordsworth, Rilke, Hardy, and Borges were among the great figures in world literature who sought – and found – the sublime in gazing out over the lakes, mountains, castles, vineyards, and vast plains of Western Switzerland.
A number of renowned poets were born in the region, namely Blaise Cendrars, Philippe Jaccottet of course, but also Gustave Roud, Anne Perrier, Alexandre Voisard, Corinna Bille, as well as songwriter Jean Villard Gilles.
Western Switzerland has thus created an image for itself, born of the enthusiasm of travellers tracing these poets and seeking to immerse themselves in the same landscapes. A true "lyrical valley", Western Switzerland is resolutely part of the poetic world heritage.
Illustrated with beautiful original drawings by Marco de Francesco, Le Poème et le territoire outlines twenty itineraries retracing the footsteps of poets and includes a selection of text excerpts inviting you read… and wander.
Le Poème et le territoireis edited by Antonio Rodriguez and Isabelle Falconnier, illustrated by Marco de Francesco, and published by Éditions Noir sur Blanc. It contains insights from guides Jérôme Meizoz, Sylviane Dupuis, Christine Le Quellec Cottier, Patrick Vincent, François Rosset, and many others.
– 20 itineraries with 20 drawn maps, 27 original illustrations, a rich iconography (photographs, engravings, documents) and an anthology of 120 texts.
– In partnership with the Foundation for the University of Lausanne and the City of Lausanne.
– Upon publication of the book, various events and activities will be offered to the public, in conjunction with Le Printemps de la poésie. Two book launches are scheduled for June of 2019.