Lit&Tech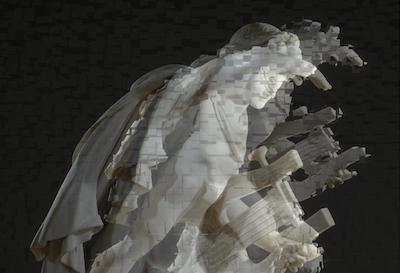 Enter a new era in poetry
Digital Lyric : beyond the book
Exhibition
Morges Castle, 14 February to 10 May 2020.
Financed by the SNSF'S Agora funding scheme, developed by the UNIL, the EPFL, the HEIG, and the HEAD, the Digital Lyric project brings together academic, creative, cultural, and scientific institutions to put on an exceptional exhibition highlighting the interaction between poetry and digital technology. This exhibition is the result of a project conducted over several years and it reconsiders our relationship to this art of language: beyond the book, poetry can show how new technologies create new immersive experiences (augmented reality, virtual reality) or offer a new perspective on poetic material (anthologies, augmented performances), more embodied and sensitive.
Beyond the book
While the late nineteenth century was characterized by the wide distribution of books, many readers considered that poetry could not be linked to any other medium of communication. However, they forgot how much this genre has been historically linked to orality, performance, music, voice or dance since ancient times. Broadening this horizon, multimedia poetry shows that we are constantly encountering different and numerous relationships to poetry.
The project
The exhibition shows that poetry, more than any other genre, offers an opportunity for technology; just as digital technology offers a special place to poetry. Nostalgia for traditional reading is part of the evolution, but we must not forget that books offer a form of immersion and that printing was a technology. Today, far from virtualizing reality, digitalization allows us to achieve a better embodiment of the poetic text. At the same time, poetry helps to explore the textual and bodily potential of new technologies, giving them meaning.
This exhibition will show that:
1. Multimedia poetry can stimulate all the senses.
2. Our attention can be captured more intensely and for longer than in silent reading.
3. The pleasure experienced through the interaction with the poem is greater.
4. We can discover traditional or contemporary poetry in innovative ways.
5. The focus on everyday poetry can be developed, its particularly important definition including several media and innovations.
Our aims
The exhibition aims to bring poetry to life in a different way by encouraging direct contact with it, allowing the public to question the evolution of literature associated with books towards literature in the digital age. It is thus articulated around the following aims:
To develop a historical awareness of our understanding of the present, particularly in the digital field;
Raise public awareness about the revolution in technologies related to reading and the new ways of understanding our poetic heritage;
To reconcile reading habits with the new technologies;
To propose events and encourage debate on contemporary multimedia innovations in the poetic arts.
The exhibition's structure
The exhibition is organized in five spaces with a specific itinerary between each stage. We are guided by the following questions: Why think beyond the book? Does the digital age come with, go beyond or against the book? Why is poetry emblematic of this turning point?Are we able to conceive of a poetry anthology differently, interacting with and relating to readers' new expectations?
Through language, poetry acts as an identification of territories and communities. How do multimedia and digital cultures allow us to define more precisely what binds us together in our differences? How can Switzerland become an example of an articulation of the global and local scales?
The room offers a new presentation of the video anthology of poetry in French-speaking Switzerland, in a large-scale manner, in a 16:9 language, a cartography of the poetic territory and an enhancement of the transnational poetic heritage of this territory.
Poetry can free itself from the authority, sometimes burdensome, of the poet or the expert in the field. This room makes it possible to improve one's own practice of creation beyond the blank page, to create one's own anthology of poetry, to recombine a poet's work or to witness dynamic digital calligraphy. Articulated around the question "can we write poetry with machines? "this room offers an interactive environment in which visitors can take part in several experiments related to artificial intelligence.
A performer who becomes a choir. Based on Sarah Kenderdine's "recombinatory wheel" experiment, another experiment is proposed: Charles Pennequin five times. This room explores how to present multimedia poetic performances, by problematizing the question of the voice or the body, around new performances, both poetic and technological.
Fiction and poetry diction
Focusing on digital devices for reading out loud, this experience will be devoted to highlighting the voice and its poetic aspect, with the ability to instantly visualize vocal movements.
Orpheus' journey (virtual reality)
This room offers a total poetic immersion through a 360° virtual reality film. It innovatively treats the archives of a famous poet, Rilke, by offering to discover a manuscript and a printed page of the original edition of Rilke in a totally new format.
The Morges Castle, which combines both tradition and the exploration of new horizons, will offer an exceptional setting with its new temporary exhibition spaces inaugurated on this occasion.
Scientific team
The exhibition is curated by Antonio Rodriguez (UNIL) and Sarah Kenderdine (EPFL).
Antonio Rodriguez is professor of French literature at the University of Lausanne. He chairs the International Network for the Study of Lyric and created the festival Printemps de la poésie in 2015.
Sarah Kenderdine is professor in Digital Humanities and director of the Art Lab at EPFL. Her research is at the forefront of interactive and immersive experiences for galleries, libraries and museums.
The curators of the exhibition are surrounded by a scientific team of experts who were in charge of the different installations. With a long experience in the fields of poetry, digital humanities or engineering, but also in scenography, gaming or contemporary editions for the online catalog, this team includes: François Bavaud (UNIL), Loïc Cattani (UNIL), Patrick A. Donaldson (EPFL), Christian Kaiser (UNIL), Mélanie Lancien (UNIL), Demian Conrad (HEAD), Juan Gomez (HEAD), Isaac Pante (UNIL), Andrei Popescu-Belis (HEIG), Aris Xanthos (UNIL).